Four months living in the bellisima student città di Bologna with 4 cozy, carini, best conquilini italiani (and one from Cameroon)
has given me the chance to meet even more Italians, more cities and regions, and learn more about the Italian culture from insider's perspectives (and eat a lot of food). I had been in Italy a few times before, but living here gave me a whole new perspective of the nation. I was intrigued by several aspects, but today I will just speak about one: Campanilismo.
Last week I took 3 Blablacars to go to Chamonix (one to Milan from Bologna, one to Chamonix, and one back), I really recommend it as it's a way to get to know locals in the country where you are at (got to practice my italian too :D)! In the first car I met 2 very nice Italian guys, one from Imola, and one from Modena, two towns 1 hour away from each other, and 30 minutes away from Bologna. Even though these two towns are just 1 hour away from each other and part of the same region (Emilia Romagna), they described them to me as if they were very different from each other. The one from Imola told me that he could tell exactly who was from Imola and who wasn't just by their accent. Anyways, both of them loved the towns they came from and at the same time spoke of Bologna with infinite love, and described it the same way I would, "a cozy place that immediately feels like home," it's very alive, there's always people in the streets.
With this, I consolidated my theory that Italians are very proud of the region and even small town they are from, and that they feel each region is very different from each other, even small towns are. And, no wonder, for each place is physically different. For example, traveling around the Emilia Romagna region (Modena, Ravenna, Bologna) I've seen that cities are mostly colored with red colors, whereas in the south, in Puglia, the cities have lighter white and grey colors. Feeling wise they are also different: as they say, in the North, people are more busy, there is more movement and not so much peace, while in the south I get the feeling that you can live the "dolce far niente" the pleasure of not doing anything, you walk the streets and you feel peace and tranquility. The food is also different: the original pizza, for example, comes from Napoli, and as you move away from Napoli the pizza might look similar but it does not taste the same. (I will never forget the taste of the pizza I had in Napoli, although the one in Bologna is delicious too, there's something that is not the same). All Italians will probably agree that the real pizza is Napolitan, and if a Napolitan tries pizza in Milan, they probably will say it's not the real one. Even the way they make coffee, as Lucia (my flatmate) taught me, if you make coffee in the mokka, in the South you should fill up the filter basket as much as possible, whereas in the North they put less coffee in the filter basket.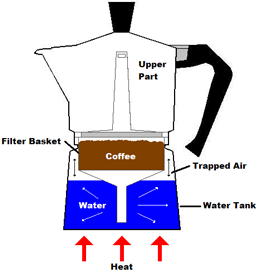 And so I told this to the guys in the Blablacar, that I thought Italians thought of their regions as almost independent of Italy. They told me this was true and that there was a word for it: Campanilismo. Campanilismo comes from the word Campanile, which means "bell tower." Italy is a Catholic country, and as such, many of its towns were built around churches with a campanile. Thus, the campanile is a symbol of the local, the place where one belongs to. Later, I learned from Marco, another flatmate, that Italy was united not too long ago, some 150 years ago. Before, it was just independent states, like Rome, Napoli, Florence… (food for thought: it's as if Bolivar had made his dream of uniting all of Southamerica into one nation come true! except Italy is much smaller LOL) This explains A LOT. No wonder that when you ask an Italian where they are from, it's common that they'll answer "I'm Roman, I'm Florentine, I'm Tuscan, Napolitan…." it's all because of this Campanilismo and the history.
But even though the regions are so different from each other, many of the Italian stereotypes are true all along the nation (in my opinion Italy is the country with the truest, most visible stereotypes).
Now I will generalize a lot, hope no one gets offended (NO REASON TO).
All the Italians I've met know how to cook pasta and they all think (and they are right) their way is the right way, they eat pizza and pasta, they drink espresso for breakfast, they talk with lots of hand gestures,
(DO YOU Know what this is?)
they love their moms and grandmas, they are emotional and caring, and they know a lot about the place where they come from, and they are proud of it.
And now I leave you with galleries of different places I went to this year in Italy, so that you get an idea of how different they are physically.
Bologna (COZY HOME)
Napoli (THE ITALIAN JUNGLE)
Milan (I GET NO VIBE FROM MILAN)
Puglia (Lecce, Otranto, Brindisi, Grotta della Poesia) (TRANQUIL)
Capri, Positano, Sorrento (ELEGANCE, PLEASURE)
La Spezia, Cinque Terre (COUNTRYSIDE FEELS)
Lago di Garda (ELEGANT)